Steelfab 2016


17 – 20 january 2016
Stand 4420
Expo Centre Sharjah – United Arabic Emirates
www.steelfabme.com
During Steelfab 2016 Cepro International BV was present at the booth of our stock keeping partner Oki Bering Middle East.
We feel the show was a very good show for us as we had some good discussions for our products. Local resellers found it very nice to find out that there is stock for Welding Curtains 6'x6', Gazelle Welding screens and some welding blankets in the Middle East now.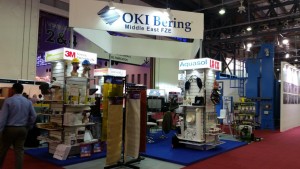 For information regarding the stock kept in the Middle East please contact Oki Bering Middle East or look at their new website www.oki-me.com
Please note that Cepro International was already successfully engaged in several projects for welding booths systems and separations in various GCC Countries and the Emirates.
When you are looking for a safe fit out of your workshop please contact us!