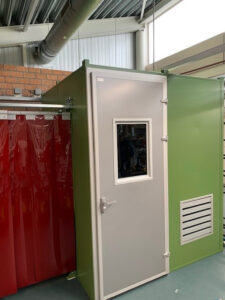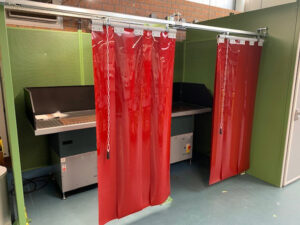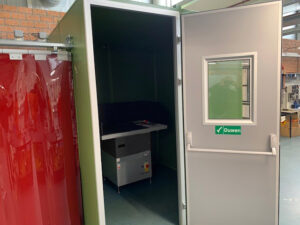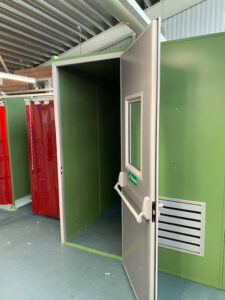 For a school in the Netherlands we created in cooperation with recognised CEPRO dealer a flexible welding and sound-insulating grinding booth for students. This allows students to perform at their best in a safe environment. Besides the student also bystanders are protected against the dangers of welding light and noise in the same room with the certificated CEPRO products.
Our proposal
Two flexible welding booths combined with an attached sound-insulation grinding booth with a door.
The front entrance of the two welding booths are fitted with four Cepro Orange-CE slide-able welding strip segments in a double rail. These strips which are certificated according to the EN ISO 25980 will filter the harmful light from the welding process. The back wall as well as the side walls are made of the Sonic sound insulating welding elements coated in a RAL-6011 powder coating.
By the use of an closed grinding booth construction of metal plates, filled with high qualified isolation products and core of steel, this grinding booth has reached its high quality. This booth can be used as a standalone booth, or in this case linked for making complete welding booths.