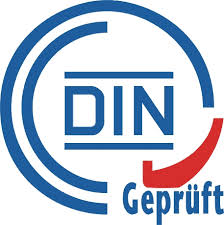 To improve safety for all workers in welding work areas the International Organization for Standardization has chosen to adopt the European EN 1598:2011. The resulting ISO EN 25980 has been published and now replaces the former EN 1598:2011. With this new standard companies all around the world can be insured they implement high quality and safe products in their workplace.
The European EN 1598:2011 standard, as well as the new ISO EN 25980, specifies safety requirements for transparent welding curtains, strips and screens. Products which are certified by the  these standards are designed to protect people who are not directly involved in the welding process, but work in the same area where hazardous radiation and spatter from welding arcs is present.
All of our former EN 1598:2011 certified products are now certified by the new ISO EN 25980 standard.